Home for the Holidays is a short story and a very important addition to Jeaniene Frost's Night Huntress series. It can be found in an Anthology called The Bite Before Christmas and it's not less amazing than any full-length Frost book.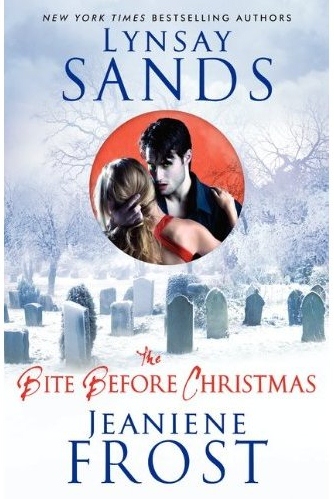 Title: Home for the Holidays
Author: Jeaniene Frost
Series: Night Huntress #6.5
Released: October 25th 2011 by William Morrow
Cat and Bones may long to wrap presents and set up a tree, but this Christmas, an evil vampire and long-buried family secrets will threaten to take a bite out of their holiday cheer.
AVAILABLE NOW:
Amazon
&
Barnes & Noble
Lucifer's Bouncing Balls!!!!!
Everyone who knows me knows that I'm sucker for Cat & Bones stories. Yes I have favorite books and less favorite in the series, but no matter what, I'll probably end up loving it - except if one of them dies... forever. -
I'm not a big fan of short novels. Actually I hate it when an author writes short novels for her series, that takes place in the middle of the series and it's contains a lot of shocking, definitely not expected news. I want them in the long books! I've never read any short novels like these, 'cuz I was glad if I could get the long books...
Anyways, I gave it a shot after I read
the first three chapters
, what Jeaniene published on
her blog
. I would have been a complete idiot, if I don't get the entire novel!!!
Maybe we, Frost fans, can skip the prequel with Bones, and the story about a wedding - which are probably not less exciting, than her other books - if we can't get them, but
THIS IS A MUST READ
!!
I can tell already, that If you read those three chapters, you probably would kill for to get you're hands on the whole book! I swear I liked this "short" story better than One Grave at a Time!!
So Let's talk about the story! What can you expect??
For Ian fans... hes has a larger role play in this story, than he ever had in any NHS book!!! w00t w00t!! And He's as snarky as always has been and it's funny as hell!! Beyond that, we can see His eternal, true loyalty side. I think I was an Ian fan sice OGAAT but here... he's definitely got his hooks in me. AND "he has something in his pants that Cat never expected..." Neither did I !! And at the end... my God... at the end there's a huge... i said, HUGE twist, that will shake his and Bones' life the most, but basically everyone's who's related to them somehow...
For Cat fans... she's as amazing as always. She shows us again, that she would do ANYTHING for her lover, Bones. She would Die for him... She's less sarcastic and funny, more smart, advised, than ever. Which is perfectly fits to the plot, because I think I could'nt be sarcastic and funny in a situation, than she's been here. She's about to loose almost everyone she loves and it seems, there's no escape from it, this time. At first, the problem is just, that some new guy gets way more attention, than her. This new guy seems to be part of the close family... not hers, but Bones'. And it makes everything so much harder to handle, for her... and for everyone.
For Bones fans...
This is his two hundred and forty fifth BIRTHDAY!! *sings Happy Birthday to Bones* The story starts almost as the first book did. I relly like this kind of twists. I'm trying to keep this review spoiler free, and since the first three chapters are available for free
here
, I let you find out what did I meant. It's for your own good... trust me! So, back to Bones... We ge to know lot of facts about his past, his family, thanks to the Birthday gift that Anette gives him. The gift is a living... - well, sort of - being and it's sooo much Bones, but still different. You will found out who is it at the end of the Chapter Three. I think, this is the hardest fight he ever fought. I honestly don't know, how will Jeaniene overwhelm this drama in her next books in the Series without killing someone - and that's not gonna happen -. Bones' world gonna turn upside down And his life becomes the worst nightmare he could ever dream...
For Cat & Bones fans... There's a lot of romantic act and sentences. As we could expect, this story is not filled with erotic scenes, like the previous NHS books, there's maybe two short scenes. But the romance between them is again breathtaking. This is their worst battle yet.
For demon fans... YES!! I'm happy to tell you, that basically the whole story related to the demons. And I was happy as hell because of this, 'cuz my new favorite supernatural creature are the demons. And the big bad wolf... err... the big bad enemy is also a demon! Whooohooo!
OVERALL: Jeaniene's short Christmas story with Cat & Bones is filled with HUGE, Interesting twists and turns, and all of them are related to Bones' family line... And the final twist was totally not expected (if you expected that, than please tell me and I'll call you GOD!!... or I will just incriminate you with that you have some serious connection with Ms.Frost.) I have this book in kindle format, but i've heard, that the hardcover is stunningly beautiful, and so worth to buy it. So Santa Claus, if you hear me.. that's want I want for Christmas!!! I tell you again, THIS IS A MUST READ!!!
So, everyone, go and buy it! It won't disappoint you!