I haven't read as much as I planned this year, and most of them weren't new releases either, so I had a pretty short - around 40 books - list from where I could choose. But I doubt the outcome would have been so different anyway :)
So let's see who/which book gets "best of 2012" award!
BEST BOOK
Iced
(Fever #6)
Karen Marie Moning
We got a lots of good new releases this year, so I wanted to choose the one that had the biggest impact on me. The one that didn't let me rest until weeks after I finished it. The biggest surprise for me. The one that really deserves the "EPIC" label for numerous reasons. The best out of the bests. I didn't have to think too long to figure out which book I will choose...
TEAM DANI!!
>>
Read my review here!
<<
BEST NEW-TO-ME BOOK
Born of Shadows
(The League #4)
Sherrilyn Kenyon
This category is about the books that released before 2012, but I just now had the chance to read it. There were some good stuff and bad stuff too. I love this series and I'm so glad I started it, even though I always liked to watch sci-fi, but not read it. It's funny, but also heartbreaking, it's soo realistic that it's almost frightening. People could learn from this so much. Loveable characters, beautiful romances, and a good amount of action scenes. I think this book is the second best in the series!
Throne of Glass
(Throne of Glass #1)
Sarah J. Maas
There was a good amount of new series starting this year, spin-offs don't count now. I choose the one that was refreshing for me, that reached a high standard within its own category, and it's damn rare, considering I'm not fan of YA books.
BEST INSTALLMENT IN A SERIES
Lethal Rider
(Lords of Deliverance #3)
Larissa Ione
Many of my favorite series had a new release this year, so fortunately I had a good list to choose from. Probably many of you know that one of my MUST-BUY series is the Lords of Deliverance by Larissa Ione along with her Demonica series, and up until Rogue Rider, Larissa was the only author who never disappointed me, not even a little. Lethal Rider won with a K.O.
Dani was the biggest surprise this year. In Mac's book I hated her sooo much I can't even tell you with words. But in Iced, she made me laugh so hard I couldn't stop it for several minutes and pages after her comment. However, she's one of the few most inspiring heroines out there. In spite of her young age, her views of life are really food for thought. Dani is kick-ass, everybody knows how tough and fierce she is. Seeing a good dose of her life makes the reader love her more. She had to grow up fast and that wasn't easy. Now she does her best to protect HER city and her people from the Fae. And she CAN carry the book on her own. Even if there weren't Ryo or Christian or any of the nine or any man, her book would be still fine!
Ryodan
I swear I don't want to turn this post into a best-of-ICED post, but I can't help how I feel, and also can't help that Karen wrote this awesomeness (THANK GOD!!). I LOVE this man, beast whatever. I wasn't really interested in him before, but boy, he changed it! I love his coldness, his (sick) sense of humour, and that he actually cares for Dani, but it doesn't change him. Anyway, Ryodan and Dani together is PRICELESS!!
Unfortunately I have to say, I'm disappointed in most of this year's villains. Either they hadn't any personality at all or they went down easily, or both. However, there is a bad boy who never let me down. TEAM PESTILENCE!
Oh God, there were soo many awesome side characters this year, it was hard to pick one. Zen, a.k.a Zennyo Ryuo is mystreious, amusing, realist, wise, intriguing and more and more loveable by every book.
FAVORITE PARANORMAL CREATURE
Hell's Angels


Her Demonic Angel
(Her Angel #5)
Felicity E. Heaton
I always loved angels, but they got a little bit boring so I changed sides and the demons became my favorites. But same happened, I slowly got bored with simple demons too. So I'm more than happy when someone combinates these two creatures. I love Fallen/Demonic Angels. Especially Veiron. Yummy!
BEST ACTION/DRAMATIC SCENE
Genesis Queen
(
The Road to Hell series #3
)
Gracen Miller
This year wasn't the best when it comes to action scenes. Most of them was short or not exciting enough, or the same happened in every book only with different characters. However we got a few heartbreaking dramatic scene. This year, for me the most dramatic scene was in Genesis Queen when someone died. Even though, I wanted to choke this person myself, and even though I knew the outcome of it, this scene almost made me cry. And I don't cry over books dammit! It was a beutifully written breathtaking scene.
>>
Read my Review here!
<<
Bloodright
(Blood Moon Rising Trilogy #2)
Karin Tabke
From the first moment Karin introduced Lucien to us I knew that this sexy, lethal alpha lycan will give his best to get the girl. All of the R rated scenes in this book deserves this award! I want myself a Lucien soooo bad!!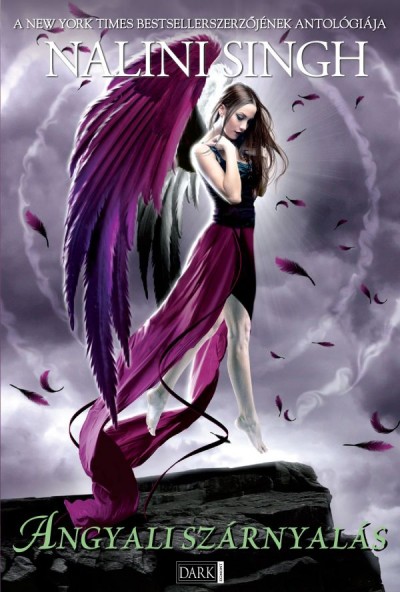 Angel's Pawn
(
Angel's Flight
)
Nalini Singh
Somewhere, somehow it's a bit sad when a novella beats every full-length book I've read this year in this category. The romantic couples weren't so captivating this year. However, Nalini could have wrote a full book for Ashwini and Janvier. These two could be easily my favorite Guild Hunter couple and that says a lot, considering how I love Raphael, Elena and Dmitri and I would give my soul for those two boys...
>> Read my Review here! <<
Larissa Ione
So who can get this award anyway? Someone who mostly not just delivers the expected, but even manages to top it. Someone, who still can surprise me and whose books do not become monotonous. This means usually 4-5 stars. Someone, who if they make any mistake it doesn't really matter because they give me such twist and turns, scenes, stories, characters that my jaw hits the floor every time.
Karen Marie Moning
Someone, who actually interacting their readers and not writing only for the money. With this category I'm gladly break my PICK ONLY ONE rule, because both women are almost perfectly fulfilled my expectations.
(And I'm so sorry this year Frost and Nalini couldn't impress me, still love them, though. Maybe next year ;))
Incarnation
Emma Cornwall
Since i'm a notorious cover-whore, this was the hardest pick. I've seen soooo many incredible cover this year, that it's sacrilege to pick only one. But I have to. So, this is my absolute favorite.
I love everything about this cover. The colors, the setting, not too much, not too little, and the background and the dress beautifully illustrate the steampunk and the font is fine too. I want this book. Or a poster. Better yet... I want both!!
P.S: Sorry for everyone who expected a good, sexy Paul Marron cover, even I'm surprised that something could beat those. :P
MOST WANTED NEW RELEASES IN 2013
Jeaniene Frost: Up From the Grave (Night Huntress, #7)
Sherrilyn Kenyon: Cloak & Silence (The League, #6)
Kerry Schafer: Between
Tessa Adams: Soulbound (Lone Star Witch, #1)
Sarah J.Maas: Throne of Glass, #2
Francis Knight: Fade to Black (Rojan Dizon, #1)
Jeaniene Frost: Twice Tempted (Night Prince, #2)
Sherrilyn Kenyon: Born of Fury (The League, #7)
Meljean Brook: Guardian Demon (The Guardians, #8)
Richelle Mead: Gameboard of the Gods (Age of X, #1)
Larissa Ione: Demonica #6
Nalini Singh: Guild Hunter #6
Sherrilyn Kenyon: Styxx (Dark-Hunter #18)
Larissa Ione: Bound By Night
Karen Chance: Tempt the Stars (Cassandra Palmer, #6)
Karen Marie Moning: Burned (Fever #7)